Anarchapulco, the world's premier annual conference for voluntaryist thinkers and activists, is dedicated to serving the needs of the community and its partners through educational events, entertainment, community outreach, and celebrations of free thinking and self-government.
Each year the event has grown exponentially and has attracted preeminent speakers from around the world.  We are excited to announce our line-up for this year includes former Senator Ron Paul, former Supreme Court Judge Andrew Napolitano, Doug Casey, Cynthia McKinney, David Icke….and Dr. Sherri Tenpenny! 
Dr. Tenpenny's topic on the mainstage will be, "Gardasil: If I Had Only Known." She will also be leading a two-hour workshop in the Wellness Form on "Are Vaccines Safe? Are the Effective?"  
Dates and times to be determined…but she will definitely be speaking at Anarchapulco. This year's theme is LIFE UNCHAINED, perspectives on how to live a life free of chains.
When: February 14 to 17, 2019
Where: Acapulco, Mexico
If you have had the opportunity to hear Dr. Tenpenny's video podcast on TheAnarchist, with Jeff Berwick, click on the picture below – she covers a ton of hot topics! Enjoy!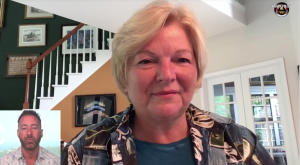 ---
Support Vaxxter
Your Donation Helps Us Fight Censorship And Remain Ad-Free
Help Us Fight
If you prefer snail mail instead, make donation checks payable to CHOONADI, LLC, owner of Vaxxter.com 7380 Engle Road Middleburgh Hgts, OH 44130
---