By James Grundvig, Vaxxter contributor and Investigative reporter
One of the most daunting tasks for anyone who wants to learn about the risks of vaccines and vaccine injuries is to find reliable information. Sources that are science-based, grounded in fact, free from bias and not simply pro-vaccine propaganda is an arduous chore to find. Why? Considering we are living in the Digital Age, with more information at our fingertips than in all previous human history combined, it is a bit more than ironic that finding good vaccine data is so difficult.
One reason why it's so hard to find information online is the double-edged sword that the pharma cartel wields against dissenters. On one edge, Big Pharma clouds the truth with disinformation and labels those inquiring about problems associated with as "anti-vaxxers." On the other edge, vaccine manufacturers have created funnels taking their point of view to the top of Facebook search results. Google changed its algorithms to push the CDC and World Health Organization (WHO) articles to the top of the first page while burying alternative views.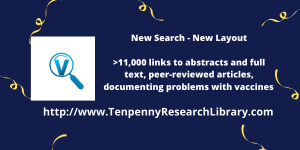 On December 10, YouTube plans to enforce its new terms of service which will allow the company to delete any account it deems to be "not commercially viable." Facebook took a more blatant censorship approach earlier this year. When users search for vaccine risk information, they are redirected to a CDC or WHO web page. Facebook has also created pop-up warnings to censor sites that post vaccine information that it deems to be is contrary to pro-vaccine dogma.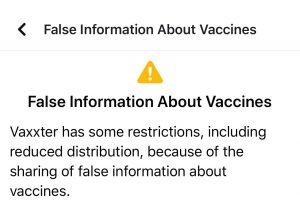 Naturally, Big Pharma deploys other tools to place muzzles on what it believes are inquisitors and anti-vax insurgents. Pharma controls mainstream media and TV news narratives with oceans of advertising dollars. Pharma pays medical experts to make sure their mainstream views are primary and reportedly hires internet trolls to delete posts written in the comments section of articles and blogs that challenge distorted, one-sided information that disparages vaccine activists who challenge pro-vaccine dogma.
Pharma's other hardball tactics include:
Holding focus groups and using the information to

help write

healthcare and vaccine bills for bought politicians at both the state and federal levels.
Lobbying all elected officials at the state and federal levels, spending more than $1B each year to buy the results they are seeking.
Holding pediatricians hostage by paying a bonus of $400 per child if 63% of the children in their practice have been fully vaccinated by two years of age with all doses of the 10 vaccines in the pediatric schedule. Here's the table; you can learn more by going here. 
Unless vaccine reactions impact a person or a member of their family directly, most Americans have no idea they were stripped of their right to informed consent. With their injury, they became a cog in the global vaccine agenda: to create customers for life for pharma. Some of those side effects include ADD, ADHD, asthma, allergies, eczema, seizure disorders, autoimmune diseases, narcolepsy, primary ovarian failure, Guillain Barre Syndrome, and yes, autism. 
What can people do to counter the billions of dollars pharma uses to market, lobby, influence and buy off the news media, medical associations, and doctors?
Do what Canada is doing: Go rogue with counter-messaging.
#AskOntarioDoctors Campaign
In Canada, the problems are the same as in the United States, only on a smaller scale since our northern neighbor has one-tenth of the U.S. population.
In September, the Ontario Medical Association (OMA) launched a new advertising campaign called Ask Ontario Doctors. One of its billboards stated boldly: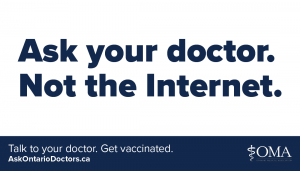 Sure thing. Let's ask the doctor, who has conflicts of interest associated with administering shots, about the safety of what is coming through that needle. Would you expect an unbiased and ethical answer?
Seeing the pro-vaccine, disinformation campaign as a threat in Canada, activists turned the OMA marketing ploy on its head. They anonymously created a new Twitter hashtag to counter OMA's website and talking points. They shortened the hashtag from #AskOntarioDoctors to #AskOntarioDocs
With brilliant inspiration, the activists created and posted numerous memes that poked, prodded, subverted, and corrected pro-vaccine hyperbole, bald-face lies, and misinformation. And I'm sure the vaccine makers hated it.
Here are three of at least two dozen counter-memes the #AskOntarioDocs campaign came out with – read the meme and the small print carefully: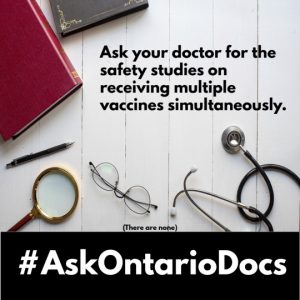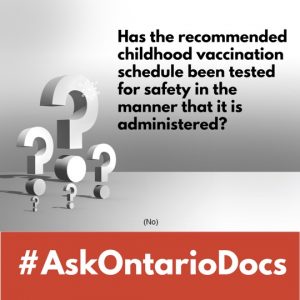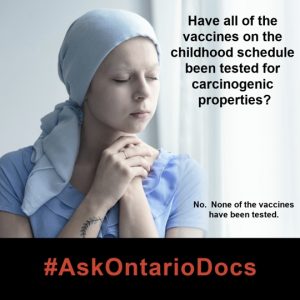 This last meme, a heartbreaking image of a cancer-stricken girl wearing a cotton hat to cover her chemotherapy-induced bald head as she sits praying, says it all about the decline of children's health. Combine that image with the exploding pediatric cancer epidemic that has confounded the "medical experts" at the health agencies, the only conclusion is that we must investigate the association between vaccines and cancer. 
Has there always been an association? If so, why do health agencies like the CDC, FDA, NIH, HHS, and the WHO conceal the truth about vaccines and their dangerous side-effects?
Activists Charge Ahead
I reached out to a local activist in Ontario. The source explained:
The rebuttal #AskOntarioDocs was born approximately one month after the OMA campaign began. The creator of the concept prefers to remain anonymous. The motivation was simply to 'Tell The Truth.'
The source continued via email, citing an additional meme: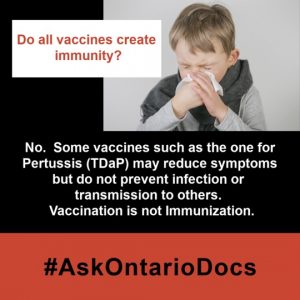 "This is a perfect example of countering a myth with a fact," the source wrote. "The Health Canada website, (A Parent's Guide to Vaccination) lists Pertussis second on a list of 'Diseases Prevented By Routine Vaccinations.' That statement is wrong and false. But because it comes from our Federal Health Agency, those who worship the white coats, (the OMA), drink the Kool-Aid without question."
The source concluded:
I educated my MD last week with the [#AskOntarioDocs] images. He speed-read them with few comments other than the occasional head nod. Notwithstanding him, we believe it has been, and will continue to be, an effective campaign. It's hard to measure. We can only continue to spread the word via our grassroots network since we are completely shutout of MSM."
The counter-pharma campaign is being used to drive home points on fake vaccine science abounds in the mainstream propaganda messages.
Can Similar Campaigns Work in the U.S.?
The answer is an emphatic yes. A similar pharma-based campaign is Minnesota's statewide Standing Orders campaign. It declares:
Takes a Stand! Use Standing Orders to Vaccinate Adults.
Using standing orders in doctor's offices, clinics and upon hospital admission is designed to improve the efficiency of the nursing staff and to increase the overall rate of adult vaccination, ostensibly to improve patient health. In reality, the opposite is true: vaccination of adults will not be in the best interest of public health.
Another pharma campaign can be found on Twitter at #VaccinesWork, created by the U.S. Dept. of Health and Human Services (HHS), stating:
Know the facts! To make sure you get the best information on vaccinations, resources are available from HHS.  Visit Vaccines.gov
U.S. activists launched a counter-campaign with #VaccinesDontWork, then post memes, videos, images, and actual vaccine science to discredit the litany of lies and falsehoods that the vaccine industry promotes on Twitter.
Here's an example of a meme created to counter the CDC's claim the HPV vaccine is very safe: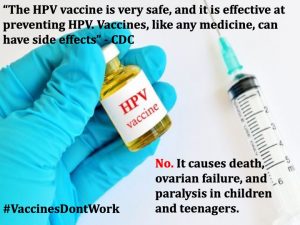 With class action lawsuits filed in Japan and Colombia against Merck and its defective Gardasil shot, many people are waking up to the dangers that vaccines cause. But finding this news when it is positioned against a dozen pro-HPV vaccine articles is indicative of how completely pharma controls the messages you hear and the policies the push. As horrible as the Gardasil vaccine is, WHO, GAVI and UNICEF plan to vaccinate the world with this deadly shot. 
If the reader is so inclined, feel free to use the hashtag #VaccinesDontWork or create another one that's less obvious to social media filters, banning and censorship, to make more memes to fight the propaganda machine with facts.
It's time to be a mirror to the deception. Create your own memes. If you don't have an application for making memes, there are plenty of free sites available online to do so.
Truth to light. Spread the word. It's time to fight.
++++++++++++++++++++++++++++++++
  Like what you're reading on Vaxxter.com?
Share this article with your friends.  Help us grow.
Join our list here    or text MVI to 555888
+++++++++++++++++++++++++++++++++++++
James Grundvig has written and published as a freelance journalist and columnist, covering subjects from autism, its cause and treatments, clean technology, green energy, and the BP Oil Spill, to business and Wall Street, and completed investigative reports on a wide range of topics since 2005. He is the founder of the cloud-based software startup in 2011 to integrate supply chain logistics in the Construction IT space. He has 25 years of consulting engineering and construction management experience on projects of scale and complexity in the New York City area. He is the author of Master Manipulator: The Explosive True Story of Fraud, Embezzlement and the Government Betrayal at the CDC.
Photo Credit: ID 83856212 © Iqoncept | Dreamstime.com
---
Support Vaxxter
Your Donation Helps Us Fight Censorship And Remain Ad-Free
[give_form id="5471"] If you prefer snail mail instead, make donation checks payable to CHOONADI, LLC, owner of Vaxxter.com 7380 Engle Road Middleburgh Hgts, OH 44130

---