A new image of a letter being sent by a clinic** affiliated with John Hopkins All Children's Hospital in Florida is now creating a stir. In the letter, the clinic puts forth a new policy that it's Pediatric and Adolescent Medicine clinic will no longer see unvaccinated children. This includes children with religious exemptions or on "alternative vaccine schedules."
The clinic will give 90-days notice to those currently out of compliance to rectify the situation.
The sweeping policy change has many asking if the hospital will also refuse children with autoimmune diseases, or children compromised in ways that prevent them from getting a vaccine.
Its draconian nature seems to indicate a more hostile approach to thwarting vaccine choice.
Here's a copy of the letter.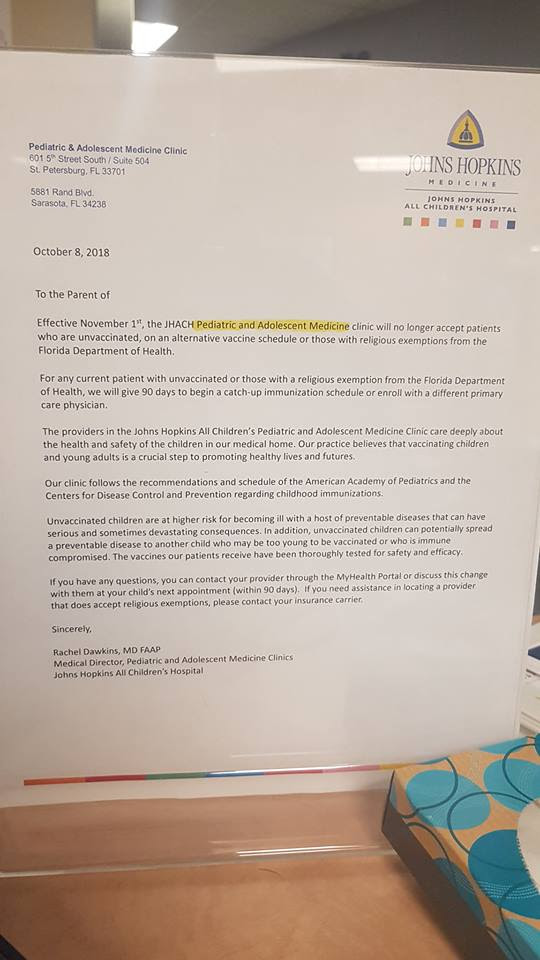 **CORRECTION: Nov. 19, 2018, 3:00pEST: This article has been amended to reflect this letter reflects anew policy adopted by the Pediatrics & Adolescent Clinic affiliated with the hospital. It is not entirely clear how the hospital will adapt to this policy. It is illegal for hospitals to refuse care. ~~Vaxxter Staff.
---
Support Vaxxter
Your Donation Helps Us Fight Censorship And Remain Ad-Free
Help Us Fight
If you prefer snail mail instead, make donation checks payable to CHOONADI, LLC, owner of Vaxxter.com 7380 Engle Road Middleburgh Hgts, OH 44130
---