Terry Rossio is the screenwriter most famous for movies such as "Shrek" and "Pirates of the Caribbean." He's now also embroiled in the cultural war that is vaccine safety.
Rossio defended parents of vaccine injuries in a pro-vaccine Tweet by writer Julie Benson. Rossio compared the term "anti-vaxx" to the vile, racist "n word."
"My heart goes out to all the parents of vaccine damaged children, who have to not only endure the sadness of their loss, but also the vitriol of ill-informed and insensitive people (such as those here). Anti-Vax is equivalent to calling someone a n****r and makes as little sense," Rossio wrote on Twitter.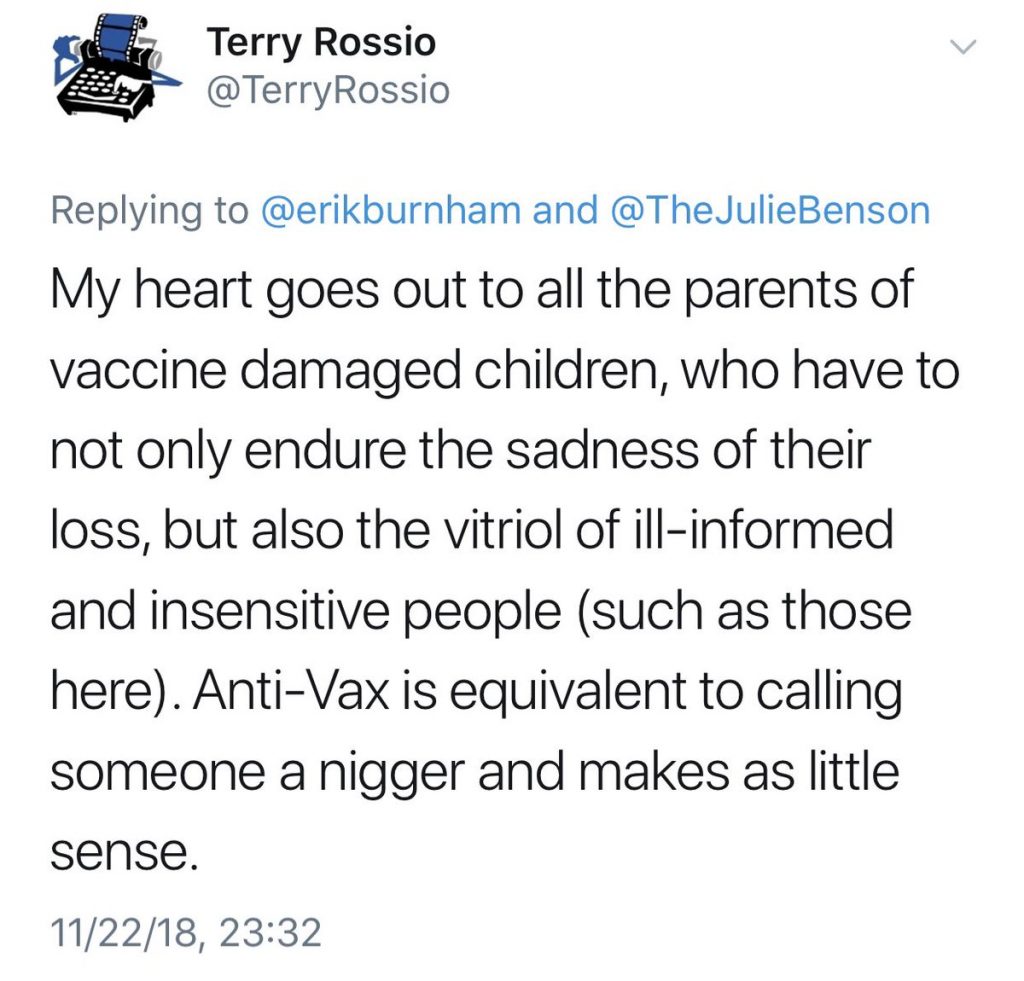 Screenwriter Jeffery Grubb wrote in the same Twitter conversation and said: "God, this is such a good point. I remember how American founders and citizens enslaved vaccine skeptics for decades. And then, even after freeing them, the government enshrined laws to marginalize vaccine deniers and to deny them wealth and opportunity. That's just history."
Back in 2016, Rossio attempted to acquire the rights to Andrew Wakefield's book, "Vaxxed."
Rossio's comparison, by itself, may not have merit. But the intention of the comparison just may.
The "anti-vaxx" label is often used in an extremely derogatory manner that tends to inflict negative repercussions. Discussing vaccine safety online means risking your job, your relationships with friends and family, and your ability to go to school.
These days even saying you don't get a flu shot is blasphemy.
The eruption on Twitter was endless, with some parents calling for Rossio's kids to be isolated. Others implying his Hollywood career to be over (Tinsel town's extreme liberal elites are likely to make this happen).
WTF is even a "vaccine damaged" child? BTW parents, don't let your kid hang out with Terry Rossio's kids.

— Wesley Chu (@wes_chu) November 24, 2018
I eagerly anticipate Terry Rossio's screenplay for Kirk Cameron's next film.

— Jeremy Smith (@mrbeaks) November 23, 2018
I can't believe the writer of Shrek is a fucking idiot.

— Dave Anthony: "Vote for Rancid Ham 2020" (@daveanthony) November 23, 2018
God, this is such a good point. I remember how American founders and citizens enslaved vaccine skeptics for decades. And then, even after freeing them, the government enshrined laws to marginalize vaccine deniers and to deny them wealth and opportunity. That's just history.

— Jeffrey Grubb (@JeffGrubb) November 23, 2018
feature Photo by JD Hancock

---
Support Vaxxter
Your Donation Helps Us Fight Censorship And Remain Ad-Free
[give_form id="5471"] If you prefer snail mail instead, make donation checks payable to CHOONADI, LLC, owner of Vaxxter.com 7380 Engle Road Middleburgh Hgts, OH 44130

---